Tit Anchor Screw ( Corck Screw ) Manufacturer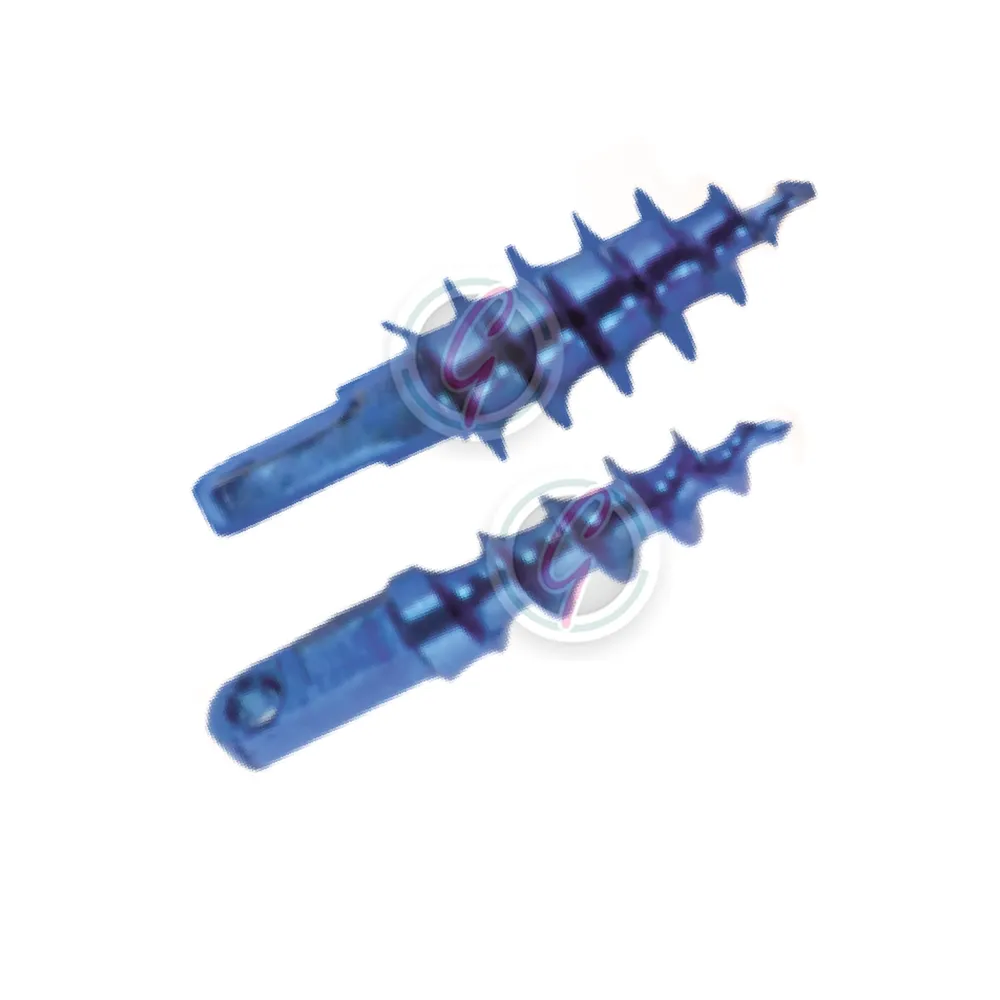 Tit Anchor Screw ( Corck Screw ) Manufacturer
Category: Arthroscopy Implants
TIT ANCHOR SCREW, also known as Corkscrew Anchor, is a medical device used for orthopedic surgical procedures. It is a screw-shaped device designed to anchor soft tissue to bone. The TIT ANCHOR SCREW is made of titanium alloy and is available in various sizes.
Description
| | |
| --- | --- |
| T.2604.03 | Dia. 3 mm |
| T.2604.05 | Dia. 5 mm |
ABOUT US
Genius Ortho Private Limited
Genius Ortho Private Limited was found in 2008 by a group of entrepreneurs after having a decade of experience in the field of orthopaedic implants manufacturing. Genius Ortho Private Limited now is the leading company in India specialize in the Orthopaedics Industry. Genius Ortho Private Limited will always achieve this position by professional pursuing excellence and by dedicating ourselves in improving the quality and serving all our customers.
All implants are exclusively made of Stainless Steel 316L, LVM & Titanium Grade V Ti-6Al-4v-ELI.
Our products of Orthopaedic implants and instruments are not only qualified with the certification of FDA, CE, GMP regulations, but also compliant with ISO Quality Assurance Standards.
Frequently Asked Questions
TIT ANCHOR SCREW is commonly used in orthopedic surgeries to anchor soft tissue to bone. It is used in procedures such as rotator cuff repairs, Achilles tendon repairs, and ligament reconstructions.
The use of Tit Anchor Screw (Cork Screw) provides secure fixation and stability for the soft tissue to bone attachment. It is made of biocompatible titanium alloy, which is strong, lightweight, and corrosion-resistant. It is also designed for easy insertion and removal, which minimizes tissue trauma and facilitates faster recovery.
Tit Anchor Screw (Cork Screw) is commonly used for fixing tendons and ligaments to bone in various orthopedic procedures, such as rotator cuff repair, labral repair, biceps tenodesis, and Achilles tendon repair.